The original post was on QJ.net on the 22nd of December, 2011. The article was originally meant to about a review of the game Goldeneye Reloaded but went into something else entirely. It is available to read here.
The year has been full of both rich and poor player experiences for those who are fans of looking down a scope to take out an enemy. This has been, as Mr. Ben Croshaw put it, Shooter Season 2011 and that with hardly a good game, that doesn't have you playing as a gruff soldier or a random dude in a first person perspective for a few hours, been available for a good quarter of the year, it's been a good time to catch up on indie games...or just beg game companies for a demo copy of this or that game.
I eventually gave in and bought Battlefield 3 and enjoyed the experience, even tried out the single player portion of the title. But as I had been a fan of Bad Company 2, I felt justified in my purchase. It was also the first non-Steam or PSN title I had bought in some time that was not being bought for the initial or single player campaign. Yes, I went out and bought a game just for the multiplayer and I felt dirty.
But good looking and dirty...
I do not know how to code well, I do not know how to make models, I want to be a writer in the games industry and one day write or help write a gaming title, but how do you think it made me feel when I purchased a game just so I could find other people and shoot them in the head, rather than be compelled to follow a fairly knee-jerk written story about a soldier with acute memory loss and a tough accent...still pretty bad...and as I said before dirty.
But let's see why the shooter genre is over saturated and why no one cares about playing shooters any more?
This was originally going to be a comparative review of the most recent iteration in the video game franchise of the James Bond series, Goldeneye Reloaded, but I thought I'd talk more on a greater matter that has been troubling to me and possibly game developers alike. That's the possible death of First Person Shooters when it could be hailed as art.
Now I don't want this to turn into a discussion about video games as art, as that's too much of an article and with Christmas coming in a few days I simply don't have the time. What I will say is I'll use references to art and art aesthetics to explain the current problem with modern shooters.
While I wouldn't say I'm a big fan of FPS games I do have to say it's a genre I adore in and of itself. In many games, but more often than not, there is a slew of games that I simply will point my nose at, like the Australian Yahtzee-like snob that I am. I think this year has had an over-saturation of First Person Shooters and anyone who has analysed the figures for best-sellers over the past five years knows why that's so. But what I'd really want to analyse is where do we go from here?
The FPS genre is filled with all sorts. If you wanna blow away aliens you've got Halo or Gears of War. If you wanna blow away foreign people, Modern Warfare has you lined up for that. If you want to fight oppressive robots in an abandoned science factory, then the Portal series has you there, but what if you just want a nice game? Well, then you probably shouldn't be playing First Person Shooter games. However they did have fairly simple origins and were quite flexible regarding the amount of sub-genre's there are.
In artistic theory, there is modernism, which is (to put it piss-poorly) when there is an artistic struggle between a creation of work where you often abandoned the old in favour of the new. However, in that breaking, some things and traditions are often let go. I think the modernist period of First Person Shooters had a lot of fun between 2004 and 2007. These were the high times for the FPS genre.
High times indeed....
Bioshock, Halo 3 and Gears of War had been on the shelves for some time, as had The Orange Box, and people started to feel the pinch of the FPS genre getting a tad stale. This is not a personal opinion, I honestly think that Bioshock may be one of the best FPS titles behind most anything Valve has created. Then came Call of Duty: Modern Warfare 4. People praised the storyline of the game for it's brash, if fractured, storytelling of how the fragments of war often create more problems and terrorism than it actually saves.
The game's first person storytelling of several soldiers fighting for their lives and country overshadowed the previous efforts by Activision with their World War 2 games, and almost completely killed the sub-genre off. However, once the dust had settled more people were talking about the multiplayer for CoD4, more than the single player, and I guess that's where Activison saw the money. As did many developers and while I won't touch on the evolution of the Battlefield series, I will say a few "mis-steps" could have simply been taken as an error in "marketable judgement" with releasing a game like BF2142 in the midst of brown shooters.
....this failed, why?
After Modern Warfare, came a whole new set of First Person Shooters and sequels that would either do well or simply crumble under the weight of first person titles. Meanwhile, Activision set forth to create another game, just as brash and hardcore as the last, however, they missed a key element: Rationality. Modern Warfare 2 was released in 2009 to a string of berating comments from critics and fans alike.
But what were most people complaining about? Well, yes the No Russian mission was a travesty of epic proportions and made the game more about American pride than anything else, but the real concern for fans was Dedicated Server support for PC. If you look at the Metacritic score and at a great old group called: MODERN WARFARE 2 BOYCOTT, boasted over a thousand members. Unfortunately a lot of them caved and the game came to be one of the highest grossing entertainment properties.
The aesthetic of the video game medium is that of being able to create a world to inhabit and live in. While it may be on-rails or closed off to some degree, the medium is one of the only types to give you a complete experience of what living in that world would be like. From games such as Bethesda's Elder Scrolls series (Skyrim/Oblivion) all the way up to Nintendo's Metroid Prime, the first person perspective opens up a lot more than just an uncluttered HUD to present to players: It's a perfect window into the world. However, unlike most windows, you can interact with it. You can pick up that sword or you can shoot down that helicopter or you can burn that house down, but what was lost in most First Person games by now is that freedom.
If you look at classic first person games, such as Doom and Duke Nukem 3D, sure they were blocked off by linearity, but it never broke the flow of gameplay for the sake of something ridiculous like, oh I don't know, a cutscene. The genre shifted into quite a story-orientated mode but it's adaption of action movie stereotypes and cliche's made it difficult to work as a video game, let alone technically.
I just wanted an excuse to use this image from Die Hard Trilogy. That game was nearly perfect.
I may be jumping on the band wagon of Modern Warfare 3 as an un-game but I wanted to take the most recent game by Eurocom, Goldeneye Reloaded, as an example of an un-game. Firstly, to define an un-game, by my (limited) understanding of the term, it boils down to the fact that despite the interactivity of the medium a game relies heavily on classic cinematic storytelling to let the game unfold.
Goldeneye Reloaded may be the first post-MW2 game to really define the un-game outside of the Call of Duty franchise.
Now some people might just say, oh Harrison, you nostalgic little brat, you have fond memories of Goldeneye 007 on the N64 just go back and play that...and I might just do that, but I think this is more than just comparing the past with the present. The game Goldeneye Reloaded strips the game of it's Pierce Brosnan face and puts Daniel Craig's on there, I'm fine with that. Eurocom didn't have the license to use Pierce's face, blah-dy blah-dy game politics and licensing blah. What I'm really worried about is how the first level of the game is presented.
The opening of the original N64 game and the movie is just you going through a dam level and then jumping off a bridge. Shoot some guys here, infiltrate a base there, done and dusted. The new game starts you off on the outskirts of that base and hey, I'm cool with that, it's like a tiny little prologue. The game starts with 006 talking to you and I'm like oh hey, Alec, yeah, you'll betray me later on, totes cool with that. Then I start playing and I get used to the controls and then I walk around and I'm all stealthy and kill some guys. Then I get into a truck and things get weird.
Okay, not that weird.
Alec drives a truck to the base and there is a struggle with the guards and things get chaotic. The game then consistently pulls the controls away from you like a bratty older brother who doesn't have the guile to ask for a turn or wait till you die. The game removes half the fun. To be honest, I'd like to be driving the truck through a group of Russian Guards rather than shooting out the side with a gun. The game then pushes stuff in your way and more often than not gives no direction what you should be shooting at, unless it's shooting at you.
A problematic point came when there was a tanker in front of you and the dialogue in-game and a large base with guards coming out of it made me think, oh hey, we might stop. But nope, just plow right through it. The game threw me a curve-ball, I admit that, but this isn't Mega-Man. This isn't a learn by trial and error type of game. This is- as I thought to myself and then spoke aloud to my kitten - this is just like in Modern Warfare 2!
The stop and start pseudo-gaming cutscenes, the random Russian enemies, the removal of the player experience. All of it! I didn't play the entire game and my criticism on the game could easily lapse, but the opening of the game is often meant to set a tone and create an atmosphere. Thematically the game does this well, but gameplay wise it's dead in the water. It's incredibly un-game like and I wouldn't continue to play it unless under a good recommendation.
The definition of un-game to me is more about having the game pull away from you when you want to interact with it, like a girlfriend who breaks out in hives when she comes into skin contact. The game is frustrating at the least and while I didn't stick around to play the whole thing, I felt left in the wind, like, are these what games are going to do now? Then I played Portal 2 and all was right in the world.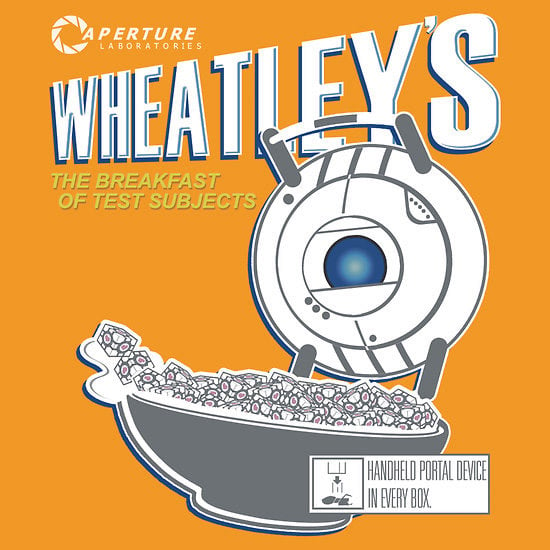 Awww yeah, everything is right with the world.
What games need to do more of is to tell us the story with the world around us rather than make us shift uncomfortably and stuff our faces every time the controls are yanked from us. You could easily have a loud sound or someone saying, hey look over there and then you could look and the next bit of dialogue happen. It just pulls me out of the game each time this happens and I simply want it to stop...
I mean, I've come to the conclusion of doing film theory over the years that genre's of all kinds and aesthetics can exist, as long as they know what their doing. The guys at Activison know what they're doing - a billion dollars confirms that...daily. But I think whatever they do next, they will need to really think of something new otherwise they may end up copying themselves in a turn for the worst.
The problem is that Activision and game producers have not caught on to the fact that freedom is key and the ability to slaughter is always a choice. As the creators of Postal 2 pointed out almost a decade ago, a game is only as dangerous as it's player and while this quote was quite tongue-in-cheek and covering-their-asses, I've appropriated it to be more about freedom in games. If you look at Postal 2 you will have menial tasks to get you through the day, but you will still have the GTA-like freedom to do whatever the hell you want. Piss on someones face then blow it off with a shotgun or even throw around diseased cows head, why? Because you can and that's what games like Modern Warfare forgot.
Another thing Call of Duty forgot...
That player freedom and telling a story can work well together, but only if the player is telling that story. This is why people have enjoyed games like Minecraft and Left 4 Dead because the shared player experience, even when it's in their own world is different, fun and expansive. Sure, with L4D you may be on a set path each time, but the AI director makes sure that path is filled with heaps of different zombies.
There are post-modernist FPS games which use the classic design aesthetic of the past to create something new in the future. Minecraft and Serious Sam have both made incredible efforts to push forward the first person perspective, but no one except HL2 has really told a story in that way since. Of course, this is just a personal opinion and I heard a lot of people were incredibly touched by Gears of War 3, but of course that's a different genre, but the same masculinity tropes still stand. But it took three games to build up that trust and I don't own a 360, so I only have hear say to go off that.
Truly a dramatic masterpiece.
Props to those who cried at the end. Props to anyone who cries at video games. Games are making people emotional, this is good, we have to strive for this. An emotional response in light of making an artistic statement on the nature of man is what can make art. Games could be art...even First Person Shooters, but the point is to embrace the medium and use it to tell the story without breaking the player experience.